Quattro Vinotecca is the first restaurant to announce the creation of sustainable livestock in a clean fed and naturally farmed environment just outside of the city limits.
From our farm to your plate.
Located in Thessalon, Ontario, Quattro Farms is a 168 acre sprawling landscape of lush grassland, apple orchards, mature evergreens and a natural running creek. Livestock is treated with love and respect, fed a clean diet of peas and barley and allowed to bask in the glorious sunshine of sprawling farm fields.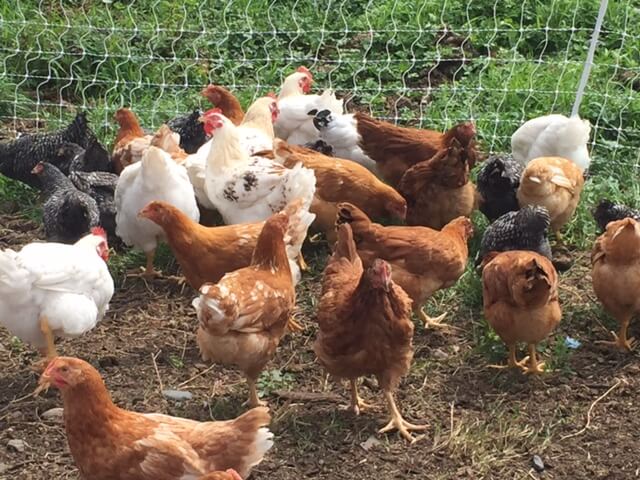 Our Livestock
Poultry, pork and rabbit were chosen primarily due to the fact that all parts can be utilized and there is little to no waste.
Livestock live in dedicated areas where they have both indoor reprieve and the ability to free range outdoors. The outdoor areas are enclosed to protect the animals from predators and harm.
Animals are providing the ultimate sacrifice and deserve to be treated with respect and appreciation.
Breaking Barriers
Our main objective for the animals is to provide them with a clean diet and daily routine that is free from stress. Any anxiety or strain to the animal will affect the quality of the product.
A typical commercial farm will over-pack animals into small quarters where they have little to no range of movement, get zero exercise and never see the outdoors. Their feeding schedule is aggressive, has very little nutritional components and designed solely to get the animal to its finishing weight in the shortest period of time.
We have a target finishing weight that is well below the standard and all livestock is free from chemicals, hormones, bi-products, GMO, antibiotics or fillers. They are fed a strict diet during mealtimes and gain other nutritional components from their natural outdoor environment. This guarantees a quality product and long term sustainability.
Local and fresh
Do you know where your food is sourced?
Do you know how it was farmed?
Do you know how long it took for your food to go from farm to table?
Most people don't know.
We are proud to say we know those answers.
The location of our farm as well as the abattoir guarantees local & fresh product.
Future Plans
As we have learned, there is plenty to do to get a farm up and running so most of this season was dedicated to securing livestock.
In the spring of 2017, we plan to expand the farm to include fields to supply fresh fruits and vegetables.
---
Quattro Farms Mission:
To provide locally sourced and responsibly farmed food
Quattro Farms Vision:
To deliver patrons and customers of Quattro Vinotecca and Quattro Conference with locally sourced and sustainably farmed quality food products that are non-gmo, free from chemicals, antibiotics, hormones or bi-products.