September is here and fall coats, sweatpants and pumpkin-spiced treats are beginning to appear. It's no surprise that plenty of Saultites claim autumn is their favourite season. Sault Ste. Marie has a ton of activities to experience and sights to see from September to November!
Attractions
---
agawa canyon tour train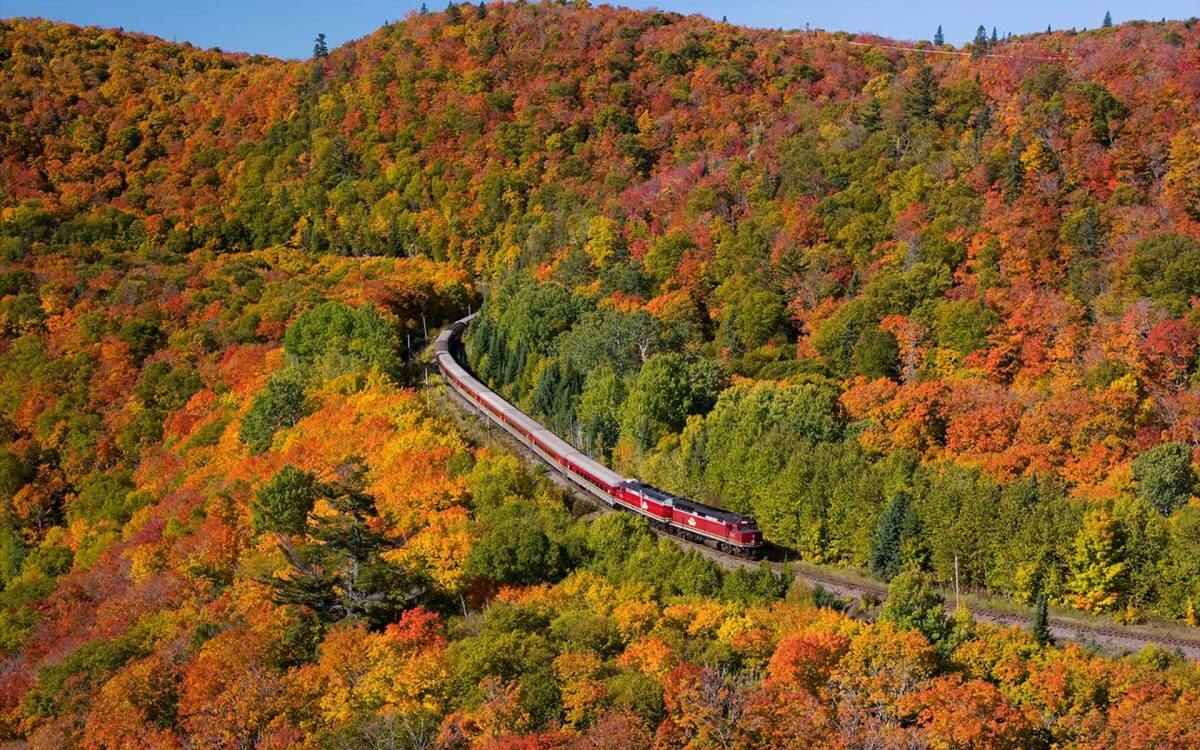 One of North America's most popular train tours, this 114-mile train ride is the perfect excursion for any fall-lover. Take in the amazing rock formations and picturesque forests as you travel alongside pristine lakes and rivers through the Canadian Shield. If you're looking for a fall activity that's perfect for the whole family, Agawa Canyon Tours is one of our top choices!
Be sure to check out their 2 and 3-night accommodation packages for the full experience!
Mukwa adventures
Looking for something fast-paced? Mukwa Adventures puts you on an ATV and takes you on a thrilling adventure through the Northern Ontario wilderness! Spend a day or a weekend on the trails and kick back and relax after your done in the local lodges. Perfect idea for wedding parties or retreats!
Hiking & Scenic Lookouts
---
RObertson cliffs
A staple in Sault Ste. Marie, almost everyone has visited or has heard of the infamous Robertson Cliffs. This somewhat challenging 5km hike offers a breathtaking view of the fall scenery. You are free to travel directly up the cliffs to overlook the colourful Boreal forest, or you can take your time and do the trail loop which includes a waterfall along the way.
How to get there:
Drive north on Highway 17 for about 30 km
Turn right onto Old Highway 17 after the Goulais River Bridge
Take the first right onto Robertson Lake Road
Drive about 5 km to reach the parking lot for the trails
More information:
Hiking Robertson's Cliffs on Northern Ontario Travel
Pancake bay lookout trail
What makes this trail special? From the lookout you can see to Whitefish Point — this stretch of Lake Superior is also called the "graveyard of the Great Lakes" where the legendary Edmund Fitzgerald sank in a fierce storm in 1975. There are two lookout platforms offering magnificent views of Lake Superior and Pancake Bay.
How to get there:
Drive north on Highway 17 for about 75 km
Turn right onto the Lookout Trail road, which is just past the entrance to the campground
Drive about 200m and the trailhead parking area will be on the right
More information:
Pancake Lookout on Superior Hiking
Nokomis Trail (old woman bay)
If you're willing to travel a few hours, the Nokomis Trail at Lake Superior Provincial Park is a beautiful spot. There are plenty of viewpoints that overlook Old Women Bay (pictured above) as you make your way up the 4km cliffside hike. The Nokomis Trail is another great place to view the pretty colours and lichen-covered rock outcrops during the fall months.
How to get there:
Drive north on Highway 17 for about 215 km until you see the signs for Old Woman Bay Scenic Lookout
More information:
Local Hiking & Bike Trails
---
The Sault also has some awesome places to visit right in town! All of these locations are located about a 5-15 minute drive from the hotel.
Bellevue park
Bellevue Park is Sault Ste. Marie's main city park. With a large playground area and plenty of trails, it is a great spot for families.
Hiawatha Highlands
A popular local destination, Hiawatha is home to many branching trails perfect for an autumn stroll.
Fort Creek Conservation Area
Located in the west end of town, this green space offers a casual hiking spot along the John Roswell Hub Trail.
Gros Cap Bluffs
Drive west all the way down Second Line and you'll hit Gros Cap at the end of the road. Great spot to experience the rocky shoreline of Lake Superior.
---
Sault Ste. Marie is the perfect destination to experience the colourful fall season in Northern Ontario. Whether you're planning a ride on the Agawa Canyon or hikes around the area, Quattro Hotel always has a warm place for you to stay!
Making plans for the winter? Be sure to check out our Winter To-Do List!