Every wedding is special & unique.
Quattro offers an a la carte menu to plan & execute your wedding to ensure it is a true reflection of you. Start your love story here.
Our Sales & Event Team will help you plan and organize a variety of events ranging from 6 to 600 people with a multitude of options for meals, room set up, audio-visual equipment and accommodations.
We can put aside a block of hotel rooms at an exclusive
rate and guarantee a great Quattro experience for your guests.
We offer various distinctive locations for you to host and
decorate your ceremony and make it uniquely you.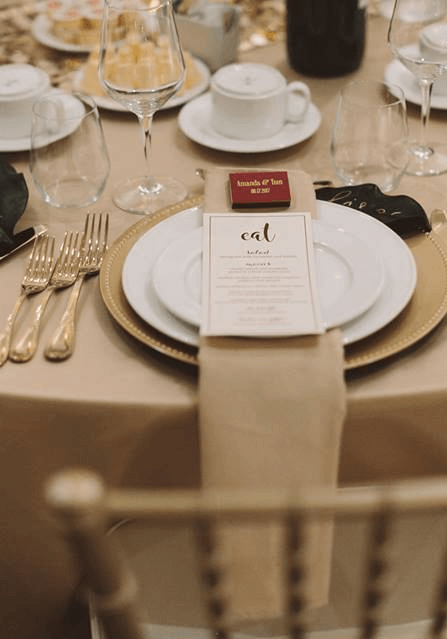 A Perfect Day
We had a summer wedding at Quattro in July 2018 and we could not have asked for a more perfect day! From the very beginning the staff at Quattro were all very helpful and available at anytime to help us with anything! We stayed in the penthouse the night before the wedding and the bridesmaids got ready there, which was beautiful and very convenient for us! All our out of town guests stayed at the hotel as well which was awesome to have everyone staying right there. Kaitlin and Rod, along with all the other staff were lovely to work with, very accommodating with all of our special wedding requests. The ballroom was absolutely beautiful, the decorating was exactly how I had envisioned it! The DJ that came in the package was amazing and had our dance floor filled with guests dancing the entire night! The food was so delicious, all of our guests just loved it! Overall we were very happy with our wedding day, and Quattro and it's staff have our highest recommendation!
Our guests told us they had never had such amazing food at a wedding before
The moment my husband and I started to plan our wedding, one of our biggest wishes was to have great food. Having eaten dinner at Quattro Vinotecca many times before, we knew that every menu item we had ever tried was fantastic. Their chefs are creative and consistent, even when dealing with a large amount of people. The menu choices were delicious, and they let us customize other items to our liking. The staff are friendly, knowledgeable, and professional. When a rainy forecast threatened our outdoor ceremony/cocktail hour vision, the staff helped to keep us calm and offered ideas for back-up plans. Luckily we had a beautiful sunny day anyway. Not only are the food and staff great, but the hotel and reception areas are modern, clean, and spacious. We had our cocktail hour in the beautiful courtyard outside, and our dinner in the ballroom. The bridal party got ready for the big day in the Penthouse suite, and our guests stayed in the hotel. Everyone enjoyed their stay, as well as their complimentary hot breakfast. Our guests told us they had never had such amazing food at a wedding before, and all had a great time.
We will never forget everything you did for us to make our day so special
On October 15/2016 my husband and I had the wedding of our dreams!!!!!! We arrived at Quattro two days before and were treated like royalty. All of the staff could not have been more amazing. We were able to arrange to be allowed in early to decorate and set everything up ahead of the big day which was much appreciated (and needed). Quattro even set up a separate room for all of our desserts to be kept. We started with our rehearsal dinner the night before in which we had a BBQ theme buffet. Oh My! Was it ever good and ever filling!!! They arranged to have a private bar tender serve us through the dinner which was a great touch.  We stayed in the penthouse suite which was the perfect place for the wedding party to get ready.  Words cannot describe how beautiful the ballroom is and how amazing the night was. We had the plated dinner with the guests given the option in advance of chicken, beef or salmon and we choose the sides. Make sure you choose the mashed potatoes…..they are to DIE for!!!  We decided on a twooney bar and it was very well received by all the guests and Quattro was super accommodating with us to customize the bar options available.  We opted out of the traditional served dessert and instead brought in a Dessert Bar, Candy Bar and Smore's Bar. It was amazing! We even had a midnight snack of Pizza and wings.  The accommodations were top notch. We still have guests telling us how amazing their stay was with Quattro and how beautiful their rooms were. We could not have pulled it off without the amazing staff who made all the difference.  There wasn't a single detail overlooked; they even asked me what temperature we wanted the ballroom. A big thank you to Amanda, Rod (aka Fishing Rod), Kola and Popeye for making our dreams come true. We will never forget everything you did for us to make our day so special.
Everything we could have asked for and more
Our wedding reception at Quattro was everything we could have asked for and more. Right from the very beginning, we received quality service that allowed our vision to come to life. The event planning team at Quattro was attentive to our many requests, accommodating to changes and additions, and very helpful with suggestions. They always found ways to ensure we were satisfied, and put to ease any questions we had along the way. They worked together to deliver excellent service and gave us exactly what we wanted and more. Communication throughout the planning process was made simple, and responses were always timely with decisions made and implemented right away. The team overlooking the reception made sure our fabulous meal was delivered gracefully and on time, and provided an atmosphere that was elegantly organized. Our guests raved about the service they received upon checking into the hotel and throughout their stay. It was wonderful to have all of our out of town guests stay under one roof where they could be comfortable for a weekend or longer in a modern and up to date facility. We could not express enough appreciation to the entire team at Quattro for their outstanding service and dedication.
The moment you walk into Quattro you feel like you're at a 5 star resort.
Weddings are the biggest day in anyone's life and everyone wants it to be perfect, that's where Quattro comes in! After meeting with Liza or Amanda you'll instantly feel better as you know right away how professional and prepared they are to give you the wedding of your dreams. We both left after our initial meeting and knew right away we didn't need to visit any other venues.
Quattro is the best facility in Northern Ontario, from their rooms, their restaurant, their amenities and more importantly their service. The moment you walk into Quattro you feel like you're at a 5 star resort. The front desk staff makes sure everyone is welcome and will take great care of all your guests. We had a number of out of town guests staying at the hotel and raved about the exemplary service and quality hotel we chose to host our wedding ceremony and reception.
Once the big night arrives you can be sure Rod (Food and Beverage Manager) will make your night unforgettable. Rod was amazing with leading and directing not only his staff but also guests to all the right areas. He went above and beyond by ensuring the walk out to the ceremony was timed absolutely perfect. Throughout the festivities, he made sure everyone received the appropriate meals and had the bar fully stocked for all our guests.
The highlight of any wedding should be the food and that's where Quattro can't be beat. Paul (Head Chef) and his staff are the best in town. The Quattro restaurant is outstanding and he brings all the food qualities you've come to love from the restaurant into your wedding. Our entire guest list commented on how amazing the food was and said it was the best meal they had ever had at a wedding. The hardest decision for us was choosing a menu so we decided on our 3 must haves: -Sausage and rapini ravioli -Stuffed chicken breast -Beef tenderloin.
Our ceremony was held in the little hidden gem between the buildings, the courtyard. A very unique, beautiful, and romantic setting for an outdoor ceremony and cocktail hour, the space is not showcased enough. It is a must see location!
In closing our wedding was a knockout and this was all made possible by the wonderful and professional staff at Quattro. A special thank you goes out to Amanda, Rod and Paul for making our magical day just perfect.
Thanks so much!!!
Call our Sales & Event Team for more information or to book your next Northern Ontario conference.
Phone: 705-942-2500
Toll-free: 800-563-7262